This was a Fossil Fuel Age Challenge pilot competition.
Like to hold a What's SUP Challenge for your school, company, or group? Please contact us.
What's SUP you ask? SUP is Single Use Plastic. It is the iconic symbol of our throwaway society and it has had some very negative consequences (read below). The mission of the What's SUP Challenge is to encourage all of us to look at how much we rely on single use plastics and think of ways to reduce our dependence.
The What's SUP Challenge asks individuals and families to collect all of their single use plastic for a period of one week or alternatively collect as much SUP as they can find around their house and then come up with alternatives to its use. Not only do we hope to get people thinking about how much single use plastic they use but we are also excited to see the creative ideas generated to reduce its use.
The SUP Challenge is being run by the Student Environmental Action Committee (SEAC) at John Bapst High School. Cooper Ackley is the Challenge Chair. The Challenge will kick off Monday April 14, run through Earth Day week and EXTENDED TO AUGUST 31 ST!
Why reducing our dependance on single use plastic matters
Single Use Plastics are not only an eyesore as it litters waterways, parks etc. but it is also a critical public health concern. Single Use Plastics have entered our food chain through leaching their chemicals into our foods and drinks, and as we eat fish and other marine life that have consumed plastic pollution. Single Use Plastic is also the largest component of landfills and ocean pollution. Our oceans now contain the world's largest dumps which can cover millions of square miles and are composed primarily of plastic waste. Also plastic is made from petrolium, also known as fossil fuel. So reducing our need for SUP is an important step to breaking our addiction to fossil fuels.
Finally, as disturbing as the quantity of all the permanent plastic waste that ends up in our landfills, lakes, and ocean is its toxic qualities. Phthalates and bisphenol A (BPA), chemicals that are commonly found in plastic products, are known toxins. Recent scientific studies have connected exposure to these chemicals with altered hormone levels, reproductive effects, and increased incidence of chronic diseases, including cancer. Styrene, which may leach from expanded polystyrene or Styrofoam, is also linked to cancer, birth defects, organ failure and reproductive problems. 
Rules
(A) Families are asked to collect their single use plastic items for a period of one week.

(B) Alternatively Families may elect to collect as much single use plastic as they can find around their house.

The Challenge runs for a 3 week period from April 14 through Earth Day week and ends at 11:59 PM EDT SUNDAY AUGUST 31. EXTENDED!

To enter the challenge participants must post a picture, of the single use plastic they have collected along with their thoughts about it as well as ideas for reducing it. 

Competition oversight to be done by the John Bapst SEAC SUP Challenge Committee

One post/entry per family

Each post must include the answers to the folloing:

Do you think you use more or less SUP than the average person?

What SUP do you use and rely on the most?

Did you discover any SUP that surprised you?

How could you and others reduce your dependence on Single Use Plastic?

General thoughts?

Each post will be entered into a drawing for a select group of prizes (see below)

Prize drawing will be held the week of September 1 2014
PRIZES ANNOUNCED!
Include a (1) pic, (2) a brief write-up on your thoughts about your pile of SUP, and (3) ideas to reduce your dependence on Single Use Plastics (see other questions above)
EcoEnlightened Partners
We would like to give a huge thank you to our sponsors for helping make this competition possible! Please support them by learning who they are and what they have to offer. Just click on their names listed below. Then let them know you saw them on this Fossil Fuel Age Challenge Competition.
Competition Entries
What's SUP Challenge submitted for this Challenge Competition.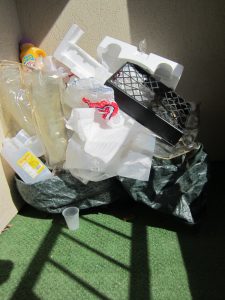 As you can see, we have a good recycling system here where I live. However when you think of the "carbon footprint", the energy used to produce all this SUP, and then dispose of it by making something else from, […]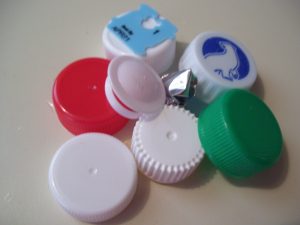 Did you discover any SUP that surprised you? -I was surprised to learn that plastic doesn't biodegrade even after it breaks down the the environment. I was also surprised that we consume chemicals (such as BPA and phthalates)…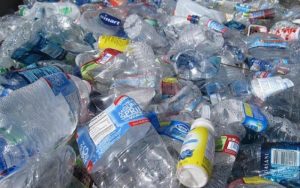 I would say I use slightly less than the average person/family. I have a big ol' fam bam but we are conscious of our plastic usage so we don't use as much as most big families. The SUP we use […]